The word 'freedom' can have powerful emotive force, the power to evoke strong emotions. Freedom of movement, freedom of speech, spiritual freedom, sexual freedom, freedom to live your life the way you decide, freedom to exist.
Do you think you are free?
Throughout human history, freedom has been the most important and challenging aspiration to reach. Our forefathers fought for political freedom from the tyranny of occupiers, slaves fought for freedom and equality, women fought for freedom from their stereotypical "household duties" and their right to vote, queers for their right to love or exist.
Today, freedom is an omnipresent concept that is over abused due to the lack of a deep and thorough comprehension of its true meaning, and increasingly degenerating into a marketing tool, using the word's emotional power to emphasise commercial products or to simply distort the reality.
When asked to define what does freedom mean, people usually have a difficult time coming up with a concrete definition. Typically the common answer is "freedom means doing whatever I want, whenever I want". most of the time freedom is claimed for what it is not – freedom of choice. But what if our choices are not free at all? What if our "free" actions are harmful to others? Should we then still have the freedom to keep acting that way?
The paradoxical solution is to orientate our behaviors to the laws imposed by the state, common sense and moral principles in order to be free. Obedience, basically the exact opposite of freedom. At this point we are forced to admit that freedom, as we have always thought of it, is an artificial reality, an open-end abstract construct, leaving us with even more questions than solutions.
No one is completely free.
But the illusion of freedom does not imply that a certain freedom does not exist and that we should not strive to live freer. Freedom is the opportunity to act, not the action itself and the only thing that stands between the freedom and your free-will is your own being. The freedom exists where togetherness is, where the common effort gives equal opportunities to all members of our society, where multicultural perspectives allow us to understand the needs of our community and continuously self actualize our struggles towards a freer world.
Act now! Get together and celebrate with us! Be Gegen! Be Free!
Artwork by
Andrea Galad
Graphic design by
Enrico Bardin
Su. 24th of October | Secret Location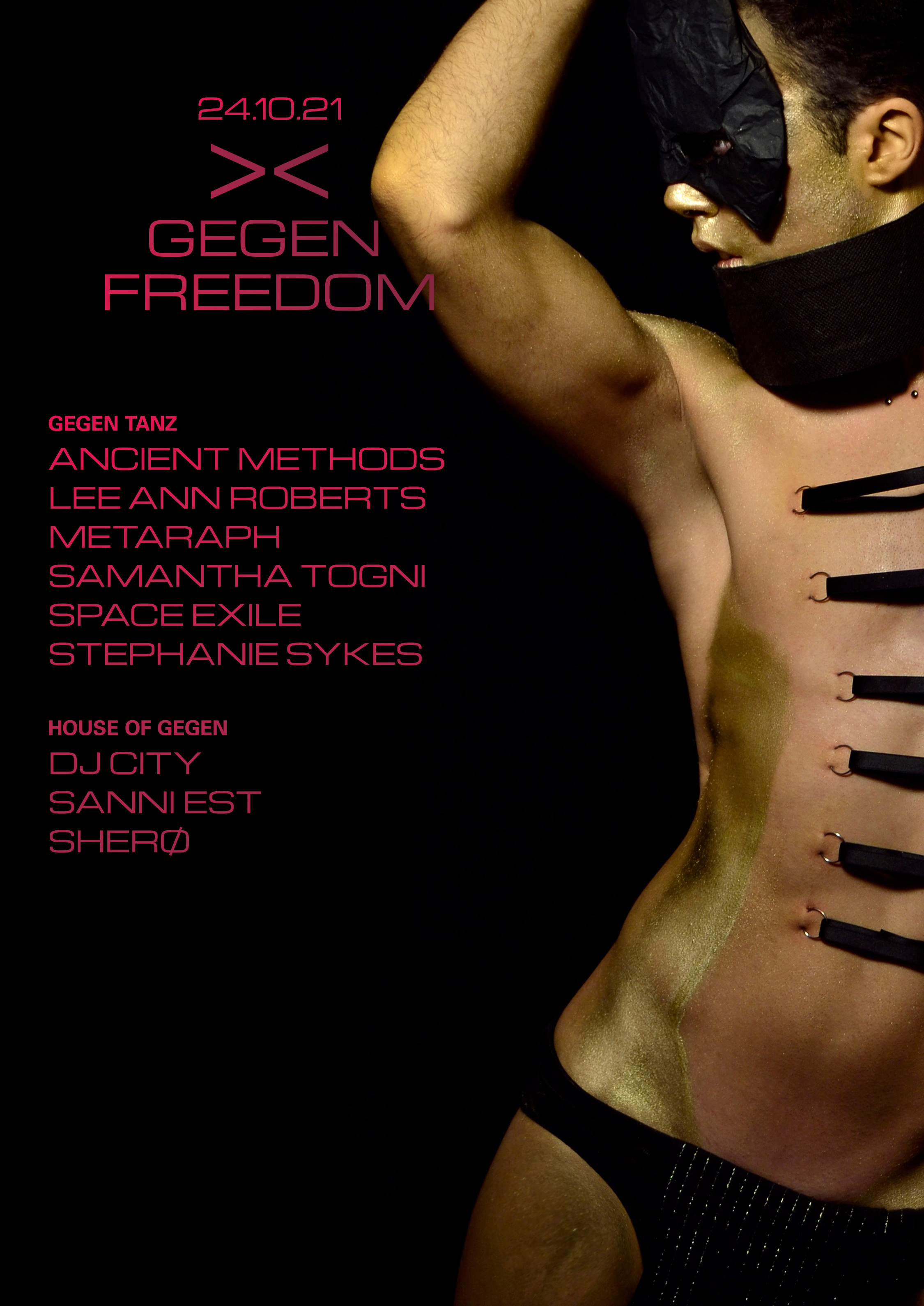 Gegen ><
Freedom | Line up
↴
GEGEN

SPACE EXILE
STEPHANIE SYKES
ANCIENT METHODS
SAMANTHA TOGNI
LEE ANN ROBERTS

METARAPH
FEMANYST
TANZ

SANNI EST
SHERØ
DJ CITY
GEGEN AWARENESS:
GEGEN YELLOW ANGELS AWARENESS TEAM
DARKROOM / SLING AREA / CHAPEL OF SINS
HOUSE RULES
▄ You can only enter the venue if you are fully vaccinated or recovered. Proof is mandatory.
▄ There will be a wardrobe.
▄ We like to remind you of our zero-tolerance policy towards GHB/GBL.
▄ We want you and our other guests to feel comfortable, regardless of gender, religion, class, or sexual orientation.
▄ Please make sure there is consent before approaching any physical contact. Gegen is not a place for discrimination, sexual harassment, or violence.
▄ If you should observe or experience an inappropriate situation, please don't hesitate to contact our yellow vest awareness team or any of the staff at the bars/coat check, guest service, or our door crew.
▄ In order to protect each other's privacy, we discourage the use of image recording devices in all the areas, we'll have our own photographers.
▄ Those who do not comply with these rules will be invited to leave.
▄ E-ticket sales will start on 19.10.2021 20:00. E-tickets will allow you to skip the queue.
▄ Online purchased tickets are not refundable. Regular tickets will be still available at the door.
▄ Being in possession of an e-ticket does not guarantee entry, we reserve the right to deny the entrance, refunds will be processed when this happens.