Gegen Berlin "2020" T-Shirt
Designed by Stefan Fähler




T-Shirt / Classic
tax included, shipping calulated at check-out
T-Shirt / Short
tax included, shipping calulated at check-out









Earth Positive genderfuck vegan, organic Short T-Shirt with reduced CO₂ footprint 100 percent Certified Organic Cotton Jersey 150-169 g/m²

EarthPositive apparel is made to demonstrate the highest possible environmental, social and ethical standards, in one of the world's most environmentally damaging industries, and to provide the music, fashion and promotional garment industries with a familiar product with which to promote awareness and take action on climate change.


Organic Cotton + Ethically Traded + Carbon Neutral manufacturing = 100% Sustainable
= 100% EarthPositive

This is a genderless t-shirt that is a wardrobe staple and can be worn all year round. It is made from 100percent certified organic cotton for our environmentally friendly customers. It features a crew neck, short sleeves and is slightly longer in the length. Colour wise there are 27 colours available but you can only have it in black. Sizes start at extra small, please check the size guide before purchasing.

Orders will be shipped within 3 working days in 100 percent recycled plastic packaging to lower even more our CO₂ footprint.






SIZE GUIDE CLASSIC ︎︎︎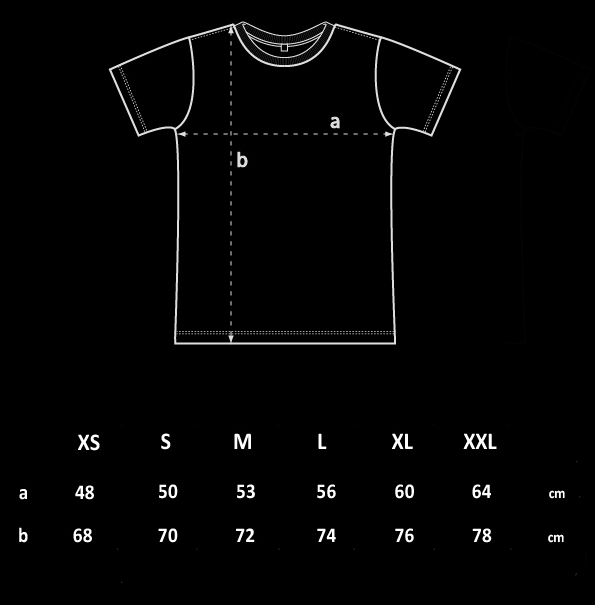 SIZE GUIDE SHORT ︎︎︎
Gegen Berlin Face Mask




LOGO MASK

Masks made of washable and reusable extralight fabric 250gr/mq 87

°

|

°

polyester + 13

°

|

°

elastane. They are suitable for prolonged use on skin contact and equipped with die-cut holes for the ears.

Dimensions: 33x13 cm approx. They help protect the nose and mouth, can be worn for grocery shopping or in work environments as a personal hygiene device for civilian use. This is not a medical device.

They are produced in Italy, the customization is made in sublimation to ensure maximum breathability, they are all machine washable at 40 degrees and should be washed before use.

tax included, shipping calulated at check-out
(please check the size guide before purchasing)







SIZE GUIDE AND DETAILS ︎︎︎
If a textile article carries the STANDARD 100 label, you can be certain that every component of this article, i.e. every thread, button and other accessories, has been tested for harmful substances and that the article therefore is harmless for human health. The test is conducted by our independent OEKO-TEX® partner institutes on the basis of our extensive OEKO-TEX® criteria catalog. In the test they take into account numerous regulated and non-regulated substances, which may be harmful to human health. In many cases the limit values for the STANDARD 100 go beyond national and international requirements. The criteria catalog is updated at least once a year and expanded with new scientific knowledge or statutory requirements. It is not easy for manufacturers and customers to keep an overview of the legal situation concerning harmful substances every day.
GEGEN >< RECORDS

GEGEN001


After 9 years of tireless events we have decided to invade your head with something more tangible and immortal: Gegen is proud to announce its debut in the music scene with a first digital and vinyl release.
A1 on the vinyl record is "Deity" by one of our resident Esther Duijn, with acid atmospheres reminiscent of the raves of the past, A2 is a reinterpretation by one of the pioneers of techno music, Scalameriya, adapting the original vibes in a blend of futuristic sound design and shape-shifting grooves.
On the other side, "Vertigo" by Ayarcana is an industrial anthem with eerie atmospheres and hyper speed beats that never relent thru the track. Vertigo is remixed by our resident LɅVΣN, who evokes the illusion of calm before diving into a post-apocalyptic lucid dream.

Artwork by Andrea Galad

"Allegory"

"

People will do anything, no matter how absurd, in order to avoid facing their own soul. One does not become enlightened by imagining figures of light, but by making the darkness conscious

"

- Carl Jung -