BY

RENE BLIXER

,

KAYA PAYSENO

,

JENNIFER ADAMS

,

KATE RICHARDS

,

JULYSSA LOPEZ
JANUARY 5, 2017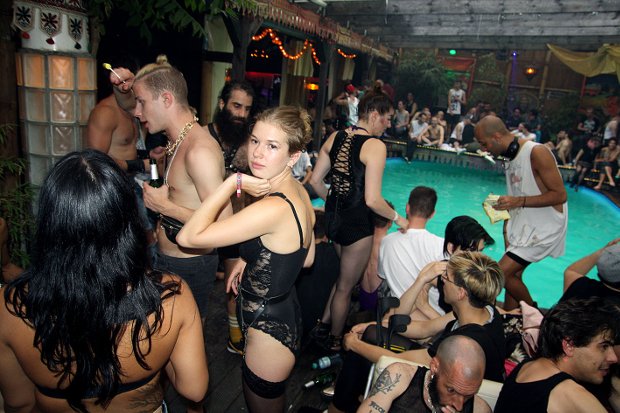 KITKATKLUB, HOME OF QUEER PARTY GEGEN, BOASTS NOT ONLY FOUR DANCEFLOORS BUT A SWIMMING POOL. PHOTO BY CLAUDIA KENT

You don't need to join the black-clad tourist hordes or face tattooed Cerberus Sven Marquardt to have fun in Berlin. We've rounded up the hot trends, secret spots and some personal favourites to give you a night out you won't find in the guidebooks.
---
QUEER

Everyone knows gays have more fun, and these iconic party nights open to all persuasions prove it.


Gegen


Yes, the straights have discovered this five-year-old alt-queer paradise, but they haven't soiled it just yet. Sex-centric without the leers, fetish-themed without the self-seriousness, Gegen remains a hedonist-utopian free-for-all where clubbers let it all hang out. Literally: wear a shirt and you'll feel overdressed. Even if you're not into the techno, house or industrial/drone blasting over Kitkat's four dancefloors (including one just for bears), the unabashedly joyous atmosphere can't be beat, and neither can the people-watching. Just be warned that the staff's nonchalance about public blowjobs belies a rather tough stance on drugs; in other words, pregame or keep it subtle, kids. —RB

Every two months, Fri night-Sat midday, next party Jan 6, Kitkatclub, Mitte, €15

Cocktail D'Amore


It's got an 85-percent-male crowd and girls won't be let in without confirming that yes, they know it's a gay night, but the super-friendly vibe and always-on-point music (programmed by Italian DJ duo Discodromo) make the seven-year-old party a blast for all genders. Now held at a former grain silo that splits the difference between industrial and treehouse, it boasts brassy, upbeat techno, house and disco on the main floor and slower beats in the basement. The shirts start coming off around 2:30, but if all the penis puns led you to expect an orgy, you may leave disappointed. —KP

Every first Saturday, Sat night-Sun midday, next party Dec 3, Griessmühle, Neukölln, €12

Buttons


About Blank's famed Homopatik party split into two factions this year. While resident DJ Mr. Ties got custody of the name, co-founder Danilo Rosato kept the all-important location, and his new party adds themes and art installations to the same techno/house beats and international queer lefty crowd. This one's best in the summer, when you can get up early Saturday morning and spend all day chilling in the garden, but a heated "circus tent" dancefloor in winter strives to keep the same feeling. The door game rivals Berghain's, so rock your best androgynous- hipster getup and make a backup plan. —RB

Every third Friday, Fri night-Sat or Sun (see programme for duration), next party Dec 17, About Blank, Friedrichshain, €15
---
SECRET

You won't find them on Facebook or Google Maps: these hidden spots are only for the in-the-know. Just don't tell them we told you.


Heideglühen


Deep within the no-man's-land between Moabit and Wedding lies this pocket-sized version of Kater Blau or Sisyphos, a wooden shack with a greenhouse-like transparent ceiling where a colourful crowd squeezes onto one dancefloor for 24-hour disco-house-confetti marathons. Though it doesn't publicise its address or lineups it's become an open secret among the clubbing faithful, with long Friday night queues (Saturday morning is a bit better) and a picky door policy that favours regulars. Bring a buddy lest you be turned away with a bitchy "This is a place for friends," not that that happened to us. —RB

Seestr. 1, Wedding, Fri night-Sat night, dates at

heidegluehen.berlin

, €15

Trickster


Probably the last tourist-free oasis in the party strip between Kreuzberg and Friedrichshain, this collectively run private space (seemingly named after its confusing back-door entrance) forms part of a dying genre of small, slightly dingy old-school venues in Berlin. Its vaulted cellar hosts punk bands and riot-grrl ukulele players along with Carribean DJ nights and more, with a Cinderella twist: for the sake of the neighbours, live concerts have to end at midnight. Adding to the mystery, it posts its weekend programme online just a day in advance and manifests on Facebook as "Tr***ster" or "TRXTR". —JA

Kreuzberg, programme at

trickster.blogsport.de

, by donation

Miss Hecker


Tucked on the second floor of a building in a labyrinthian back-alley in Wedding, this living-roomsized private venue hosts weekend early-evening concerts that veer towards the avant-garde echtzeit side of things (in other words, don't be surprised if you see someone "playing" a bicycle). The mustysmelling, Persian-rug covered space sees between 10 and 20 people gather on various wooden chairs and benches, sharing not only an intimate musical experience, but also home-brought fruit and snacks. For a "friends-only" venue, the atmosphere is open and inclusive, so if you want to take it easy one Saturday night with a beer and some free jazz, just check their line-up and pester one of the musicians for the address. —KR

Gerichtstraße, Wedding, programme at

misshecker.org

, by donation
---
KY-MANI MARLEY PERFORMS AT YAAM, THE "YOUNG AFRICAN ART MARKET". PHOTO BY MARION MASUCH
AFRICAN

While the African party scene operates on a small, underground scale, it's bursting with booming Afro beats, addictive reggae riddims and steady streams of dancehall.


YAAM


Make it past the legendary DIY beach bar at the "Young African Art Market" and you'll find a concert hall that thumps on weekends with reggae, rap and dancehall DJs from all over the African continent. The venue's 15-plus years on the scene make it the oldest and most well-known repository of African music in Berlin, and despite ever more newcomers, YAAM's African regulars and staff from Chad, Cameroon, and Ghana keep the place feeling authentic. —JL

An der Schillingbrücke 3, Friedrichshain, €10-12

Chesters


The small Kreuzberg club has known many incarnations: the site of the former Kitkatclub, a hub for Berlin's bass music scene a few years back, now an after-hours destination for YAAM regulars. But one constant has remained: a perennially packed, sweaty dancefloor. Event nights almost every weekend (and most Thursdays) braid together the best of African sounds; expect DJs like Team Timeless spinning enough Afro-Caribbean hip hop, reggae and dancehall to keep you up until sunrise. —JL

Glogauer Str. 2, Kreuzberg, €4-8

African Acid Is The Future


This monthly sonic expedition through Nigeria, Ethiopia, Congo, Ghana and more moved from tiny Herz to the larger Loftus Hall about a year ago, driven by demand from clubbers looking to dance to something more syncopated than fouron- the-floor. Since then, the party has gotten bigger and bolder as co-founder Maryama Luccioni has recruited experimental mix table masters like London's DJ Dauwd and Z Lovecraft to spin psychedelic Afro rhythms. —JL

Loftus Hall, Maybachufer 48, Neukölln, check

Facebook

for dates, €8

Surprise


On weekends, you can almost always anticipate some kind of rowdy reggae party here at Berlin's largest "Afro Black Music Club". The vibe is more "traditional" here, meaning disco lights, ladies' drink specials, dudes whose shirts expose way too much chest hair and yes, cover charges. Luckily, the music is always blasting and when the party turns up, the dance floor gets fiery. —JL

Potsdamer Str. 84, Mitte, €7-10
---
NK LIVE

Rather than bumming around the usual candlelit bars, Neukölln's many musicians are finally putting their mics where their mouths are.


Neue Nachbarn


In a Neukölln besieged by noise complaints, this pretty-looking, well-soundproofed new venue from the team behind the bar Lipopette is a novelty just for being able to host live music past 11pm, although the lack of a proper stage means you'll hear the acts better than you can see them. Expect a set from a local indie band followed by DJs spinning funky soul and world beats; stay long enough and you might see some ironic stripping action on the pole downstairs. —RB

Schierkerstr. 23, Saturdays from 20:00, check

Facebook

for events, €4-6

Keller


Opened in 2014 as more of a hippie jazz bar, the scuzzy yet welcoming Hinterhof basement next to the Neuköllner Arkaden has lately been serving the kind of raucous Balkan/klezmer/electro-swing line-ups that Fuchs & Elster (soon-to-RIP) once did, along with hip hop, the usual house and techno DJs and the occasional indie concert. There's also a foam pillow pit – take that, Klunkerkranich! —RB

Karl-Marx-Str. 52, see

website

for programme, €8-10
---
TRESOR CELEBRATED ITS 25TH ANNIVERSARY OVER THE SUMMER. PHOTO BY CAMILLE BLAKE
UNDERRATED

A few staff favourites that we think shouldn't be taken for granted.


Tresor


It's the oldest and most influential name in Berlin techno, but ever since Dimitri Hegemann moved Tresor into Mitte's hulking Kraftwerk in 2007, it's barely rated a "meh" among serious clubgoers. We're not sure why – maybe because you'd basically have to vomit on the bouncer to get rejected here? We'll take that as a plus, not to mention that the music's still great and the experience of passing through that long concrete tunnel into a merciless, strobing techno-dungeon is unrivalled. —RB

Köpenicker Str. 70, Mitte, €10-15

SO36


It's not that "Esso" is underrated, it's that it's underestimated as merely a punk club. But aside from the lines of leather jackets keeping the uncool masses on the other side of Adalbertstraße, it hides some of the best alternative happenings in the city, from queer Oriental (Gayhane) to underground debauchery (Ich Bin Ein Berliner) to fun quirks that still draw diverse crowds (like drag queen bingo and roller disco nights!). Almost 40 years after it started, SO36 continues to reign. —RB

Oranienstr. 190, Kreuzberg, €5-20

Kantine am Berghain


It may not have darkrooms, but the big B's little sister has Pitchfork-approved indie music lineups, the decent sound you'd expect from the Berghain brand, an enclosed patio with a fireplace that feels a bit like an apres-ski lodge and, in summer, a perfectly chill biergarten that also serves Schillerburgers. Go for a show on a Friday or Saturday night and you get to laugh at all the suckers queuing up next door on your way out. —RB

Am Wriezener Bahnhof, Friedrichshain, €10-20
---